Leave the limitations behind and embrace a new era of service management
You don't have to live with inefficient, ineffective processes and outdated tools. At Isos Technology, we believe in embracing flexibility without complexity, so teams can work smarter and faster.
With the power of Atlassian's next generation ITSM platform, Jira Service Management, you can:
Simplify complexity by consolidating tools

Optimize spending with transparent pricing

Streamline processes and boost productivity

Gain better visibility into work and results

Enhance collaboration and transparency

Make data-driven decisions
If you want to experience these benefits, but switching tools seems daunting, don't worry. We're here to help make the transition to better service management easier.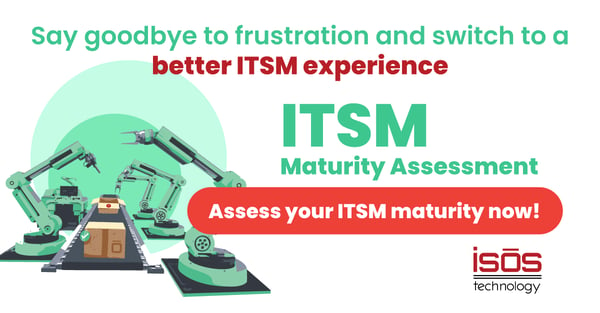 Introducing the Isos Technology ITSM Maturity Assessment
Ready to embark on your journey toward greater visibility, improved collaboration, streamlined costs, and happier employees and customers?
Get started by taking our ITSM Maturity Assessment to gain valuable insights into your organization's current service management maturity level, and best practices for improvement.
Why Take the ITSM Maturity Assessment?
Assess Your Maturity
Gain insight into your organization's current ITSM maturity level. Our assessment will provide a comprehensive evaluation of your existing ITSM practices, strengths, and areas for improvement.

Drive Continuous Improvement
Our ITSM Maturity Assessment not only highlights your current maturity, but also provides best practices for improvement. Unlock the potential of your ITSM processes, identify areas for growth, and establish a roadmap for upgrading your ITSM experience.
Streamline Service Management
Jira Service Management (JSM) offers a whole new level of functionality and efficiency. By taking the assessment, you'll gain a deep understanding of your current ITSM practices, and see how a solution like JSM can revolutionize your service delivery.
Ready to Get Started?
Leave behind the limitations of your legacy tools and embark on a journey towards smarter, faster service management with Jira Service Management.
Jira Service Management vs. ServiceNow: Flexibility vs. Complexity

If your organization is in the market for a new IT Service Management (ITSM) solution, chances are you're taking a close look at two leading solutions: Jira Service Management and ServiceNow.

Strategies for Successful Migration from Legacy ITSM Solutions to Jira Service Management

In this whitepaper, we explore the primary reasons companies migrate, how to rethink processes during migration, key considerations when working with an Atlassian Solution Partner, and specific examples of successful migrations to Jira Service Management.