Staying SAFe with Jira On-Demand Webinar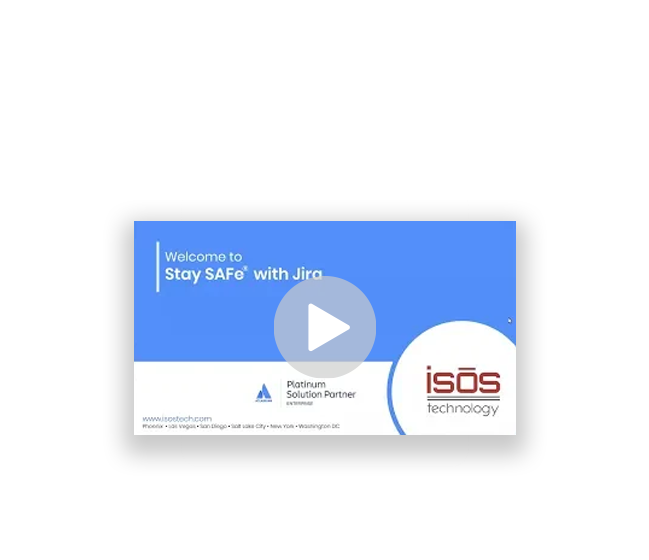 Navigating the Perfect Storm with Isos Technology
This webinar examines the good intentions of a company filled with enthusiasm for implementing SAFe while using the power of Jira. It follows the company's pragmatic approach to SAFe, paying particular attention to PIs, ARTs and WSJF… and how things went off the rails.

The webinar covers how Isos Technology helped the company adapt their burgeoning SAFe processes and new Jira environment into a blended solution to meet their scaling needs.
What You'll Learn...
Join us as we delve into our case study that focuses on how a company with newfound zeal for SAFe attempted to use Jira to manage three core SAFe concepts:

Program Increments (PIs) are a way to timebox delivery at a large scale. These have similarities to the Agile iterations that are at the heart of Jira planning.

Agile Release Trains (ARTs) are very large cross-functional teams. Jira already excels at managing Agile teams, and ARTs were seen as being able to benefit from this existing functionality.

Weighted Shortest Job First (WSJF) provides the mechanism for getting the most "bang for the buck" in SAFe by weighing Cost of Delay against job size, guiding backlog selection. Being able to incorporate WSJF in Jira project backlogs was seen as an attainable goal.

The case study follows the organization's pragmatic approach to mapping these concepts in Jira…and how it went wrong.

Learn how Isos Technology stepped in, rolled up our sleeves, and solved the company's mapping issues. Isos was able to look at what the original intentions were for PIs ARTs and WSJF, analyze where the Jira mappings failed, and come up with solutions within Jira to allow the company to represent these core SAFe concepts effectively within Jira.
In the end, this organization was able to spread its wings and continue on its SAFe journey.